Hebben jullie inmiddels ook al de zomer in jullie bol? Dit artikel is in maart al eerder verschenen, maar er is inmiddels meer duidelijkheid over de producten en de release datum van de leuke zomer collectie van MAC. Vandaag heb ik dan alvast iets leuks, nl. ! Vanaf zaterdag 14 mei 2011 (gewijzigde datum) kunnen wij de zomer make-up collectie van MAC die de zomerse naam Surf Baby heeft gekregen, vinden bij alle MAC verkooppunten in Nederland, een collectie met speciale verpakkingen en die bestaat uit twee delen. Lees even verder voor de informatie......

Tijdens ons backstage bezoekje bij MAC tijdens de Amsterdam International Fashion Week hadden we er al iets over gehoord, maar natuurlijk werd er nog behoorlijk geheim gedaan door MAC. Ondanks hun pogingen alles geheim te houden kwam het nieuws vorige week toch naar buiten, samen met enkele afbeeldingen. De informatie is nog niet compleet er ontbreken nog wat prijzen, maar ik zal dit artikel aanpassen als ik de informatie compleet heb. De releasedatum van Surf Baby is wel vastgesteld op zaterdag 14 mei 2011 en de producten zijn verkrijgbaar zo lang de voorraad strekt, het is een limited edition collectie. De collectie is onderverdeeld in een "colour" en een "face" deel: Surf Baby Colour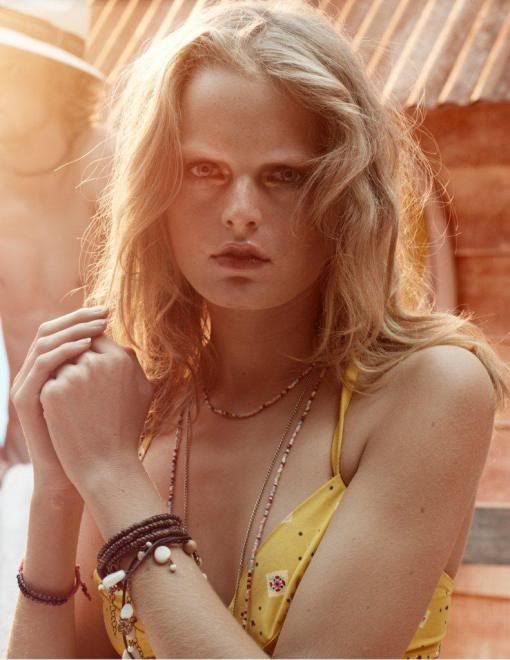 Grab the board, hop in the Jeep, cruise the Pacific Coast Highway… Surf's up! The lure of the endless summer starts here with My Paradise Cheek Powder, Mini Blush Sticks, a Summer Stash of Crushed Metallic Pigments, Hibiscus Lipstick and Splashproof Lash Mascara that just won't smudge. Colourful, lustrous, and full of life… journey to a world where feeling the rush means taking a risk. Hang Ten!
Cheek powder My Paradise (coral orange with champagne gold flower)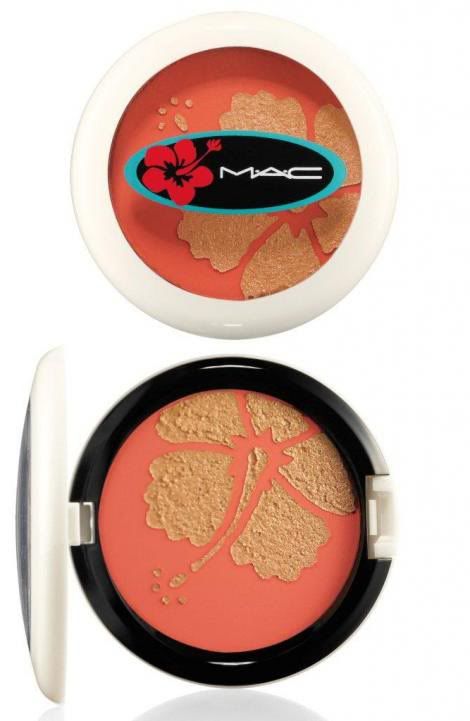 Lipstick EUR 17,50
Bust Out! - Dirty mid-tone violet (Lustre)
Hibiscus - Bright orange coral (Cremesheen)
Mocha- Peachy yellow-brown (Satin)
Naturally eccentric - Creamy white nude (Lustre)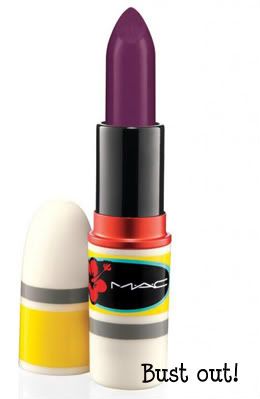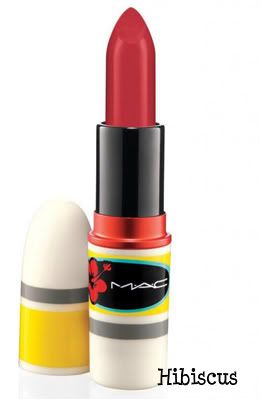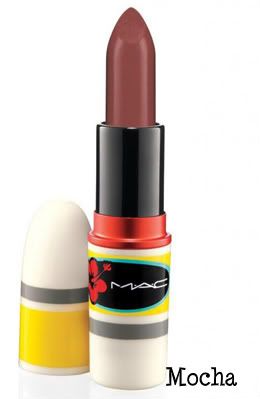 Lipglass EUR 17,00
Girl on Board - Pale white gold
Good Lovin' - Soft peachy pink
Krazy Kahuna - Warm mid-tone brown
Strange Potion - Soft coral pink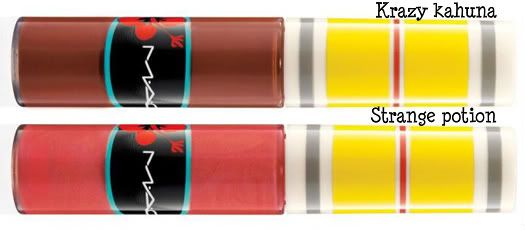 Crushed Metallic Pigment Stacks EUR 35,00 (prijs nog even onder voorbehoud)
Summer Stash - Light pink champagne, light white pearl, light violet with silver pearl, brown bronze with gold pearl (Frost)
Surf the Ocean - Frosty platinum, light yellow green, gold bronze, dirty graphite with silver pearl (Frost)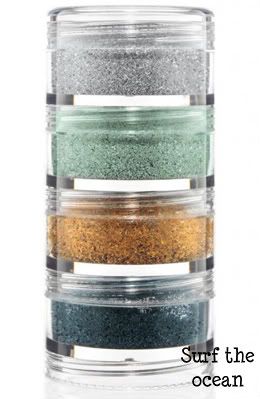 Eyeshadow EUR 15,00
Saffron - Deep coral caramel (Satin)
Short Shorts - Frosty white champagne (Frost)
Sun Blonde - Dirty yellow gold (Frost)
Surf U.S.A. - Frosted teal (Frost)
Swell Baby - Mid-tone grey (Satin)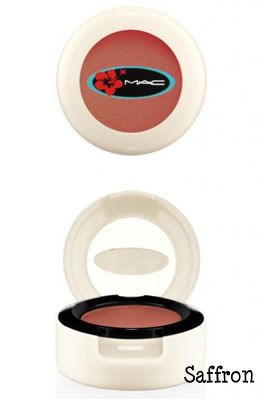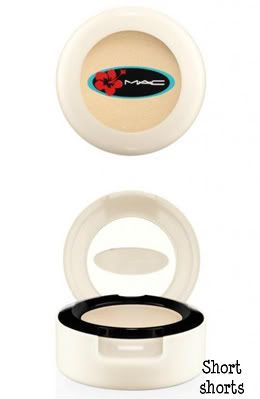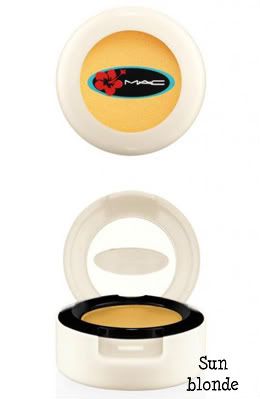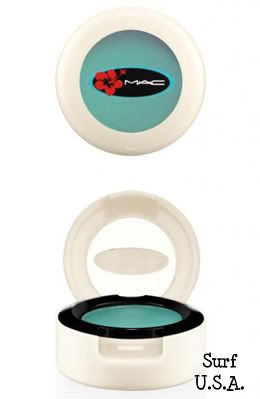 Nail Lacquer EUR 12,00
Hangin' Loose - Dirty pink nude
Ocean Dip - Mid-tone creamy aqua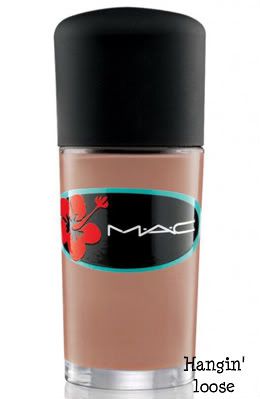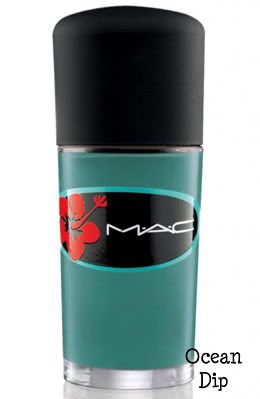 Powerpoint eye pencil EUR 15,00
Blue Noon - Teal with gold pearl
Gilded White - Yellow white frost
Blushette blush stick
(dit product is een tikje onduidelijk, in de USA stond het niet op de press release maar wel op de collectie foto, ik denk dus dat dit product gewoon zal worden uitgebracht)
Barbara Ann - Mid-tone berry
Bound for love - Mid-tone coral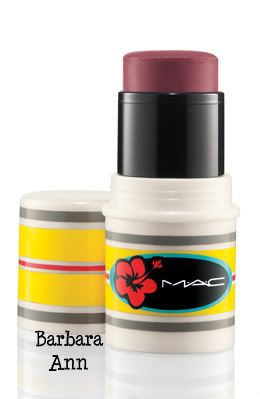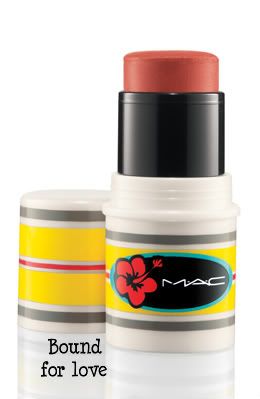 Surf Baby Face
Here's bronzing for every dude and dudette looking to hit the half-pipe with a killer tan. Bring commotion to the ocean with Solar Riche Bronzing Powder and new Gold-go-Lightly Studio Careblend/Pressed Powder. Capture the surf spirit, add contours & dimension with the latest Skinsheen Bronzer Stick! Defy sun-and-sea blasted lips with Suntints SPF 20 Liquid Lip Balms.
Bags (uitsluitend bij de MAC stores)
Surf, Baby! 1 EUR 20,00
Surf, Baby! 2 EUR 25,00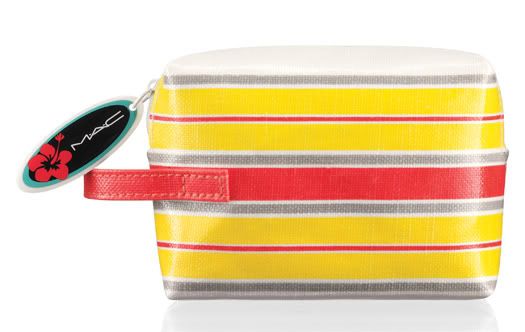 Suntints Spf20 Liquid Lip Balm EUR 15,00
Full Of Grace - Soft sheer rose
Pink Tinge - Clean bright yellow pink with gold pearl
Lilt Of Lily - Soft creamy pale pink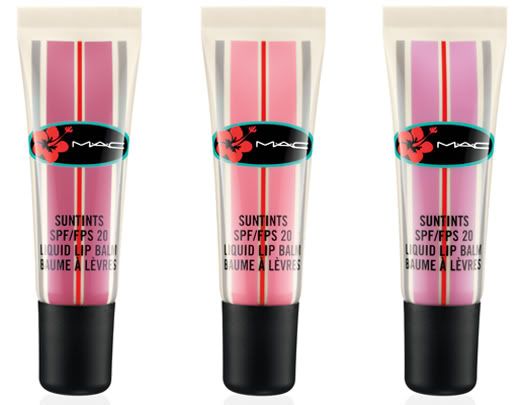 Skinsheen Bronzer Stick EUR 33,00
Tan-Tint - Soft suntan bronze
Billionaire Bronze- Warm golden tan
Gilty Bronze - Coppery bronze with gold shimmer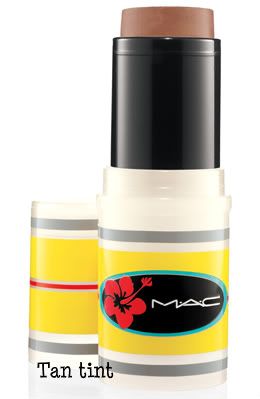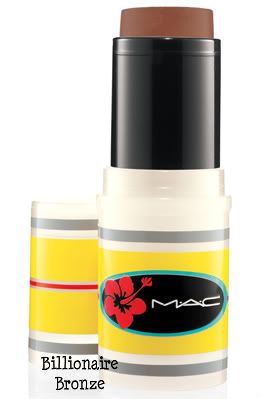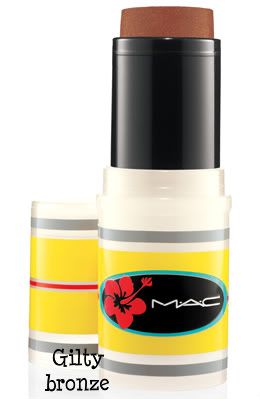 Brush EUR 37,00

Bronzing Powder EUR 22,50
Refined Golden - Finely spun golden with soft pearl finish
Solar Riche - Mid-tone deep orange brown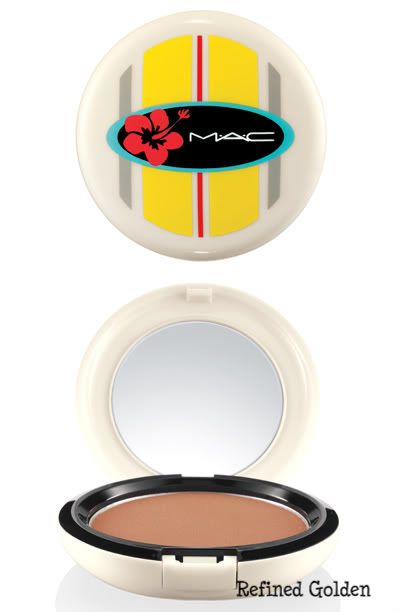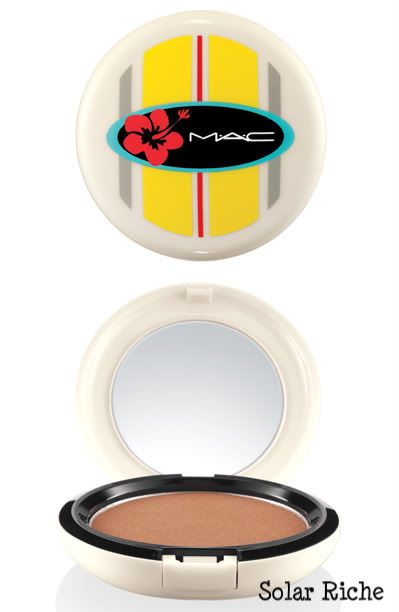 Studio Careblend/Pressed EUR 25,00
Gold-Go-Lightly - Mid-tone golden tan brown
Lush-Light Bronze - Mid-tone rosy pink brown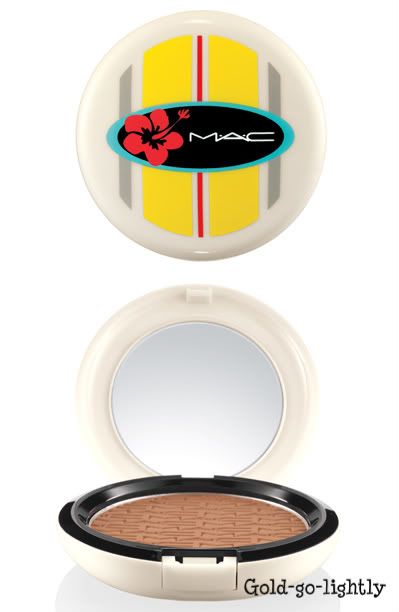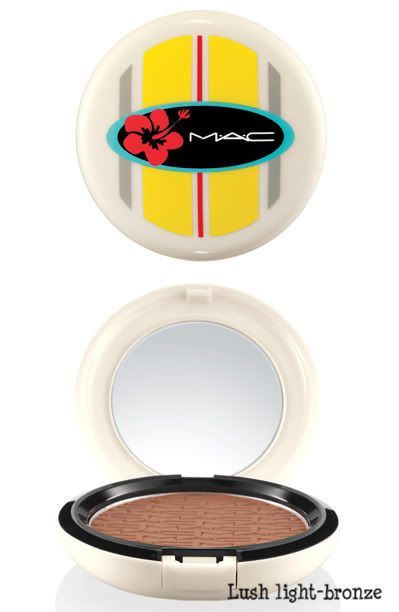 Ik hou jullie op de hoogte, maar vertel eens.....wat vinden jullie ervan? Hebben jullie zin om een surfshort aan te trekken en naar het strand te gaan?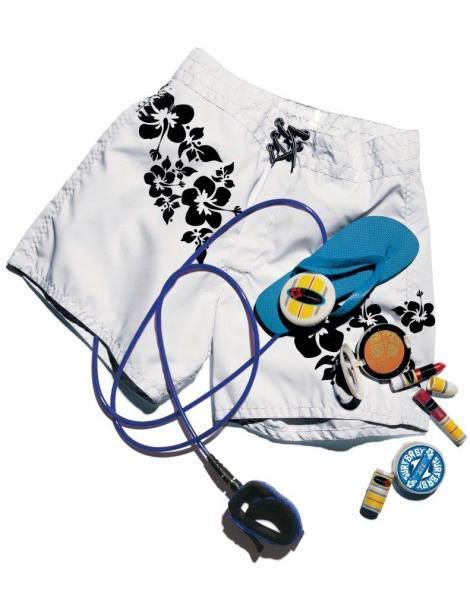 Bijdrage van Debbie