Revisit the '50s! De Misa Hip to my Jive collectie neemt ons mee richting de jaren vijftig. Een nagellakcollectie met mooie retro kleurtjes en een hoog pin-up gehalte! Namen zoals Pop the Clutch, Got It Made in the Shade en Peachy Keen zullen de revue passeren.

Like, far-out, daddy-o! Misa Cosmetics' fall collection, Hip to My Jive, will have you flipping out over shades that hearken back to the decade of old-school cool while ensuring that your nails remain of-the-moment. The '50s brought us TV dinners, cruising in chrome-accented automobiles, and poodle skirts at the malt shop, but now they bring forth six retro-inspired hues that'll knock your socks off!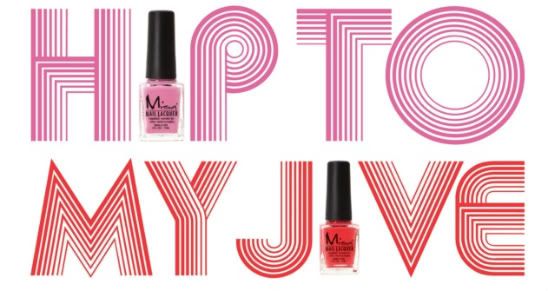 De omschrijvingen die Misa meegeeft aan de kleuren zijn altijd enorm bijzonder en geeft fantastsich weer hoe de kleuren er uit zullen gaan zien. Ik vind ook de promo afbeelding erg passend. Dat kun je wel aan de dames en heren achter de Misa schermen overlaten!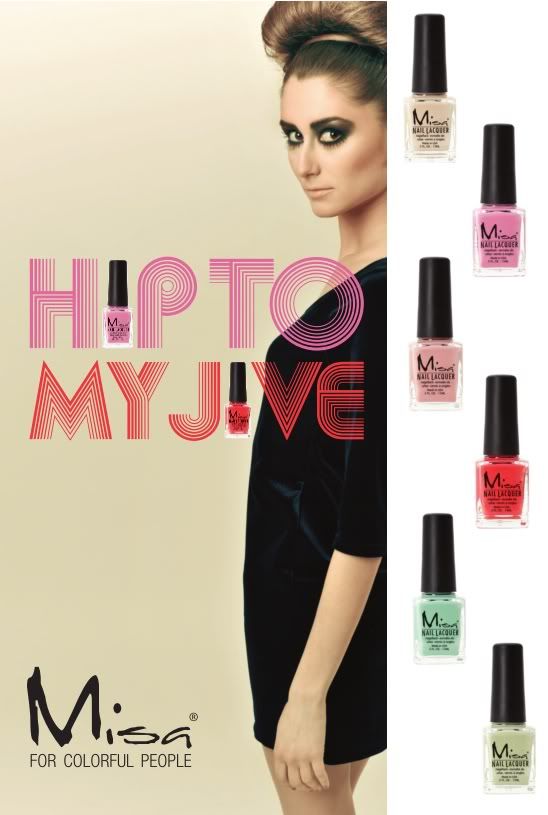 Peachy Keen - You don't have to be a square to appreciate the necessity of perfectly polished nails. This champagne-hued taupe is a flattering neutral that'll go with everything in your closet, from full skirts to sweetheart sweaters. Take this shade from the office to after-hours, it's guaranteed to make a soft, feminine statement.

Go for the Pinks -Thinking pink? Throw your hair into a ponytail and put on your girliest nail color. Perfect for going stead, or meeting the parents! This muted but statement-making matte rose lends a girly-girl flair with an irresistible high-gloss finish.

Pop the Clutch - Nothing's more liberating than grabbing the keys and taking a ride on the boulevard except perhaps this rosy brown hue with a hint of iridescence. Put the top down, slide the key in the ignition, crank up the tunes, and tap out your favorite rock-and-roll beats on the steering wheel with perfectly polished nails.




Bop Till You Drop - Go ahead, stay out all night; this vibrant shade will ensure that your nails make a statement from early evening into the wee hours. One warning, though: This shimmering orangey coral will definitely outlast any partner you can find down at the dance hall.

Catch a Flick - Getting swept away in your favorite Hollywood plots at the drive-in is a perfect pastime, but you'll want to keep your nails firmly rooted in reality. Just try to tear your eyes away from this cool mint green to watch the movie!

Got It Made in the Shade - Whether in the heat of an Indian summer or lounging as the leaves turn for autumn, this fall, make sure you've got nail color that's laid-back yet oh-so-hip. Perfect for hanging with the greasers or dancing at the sock hop, this unique olive green will keep your nails coo land hot all season long.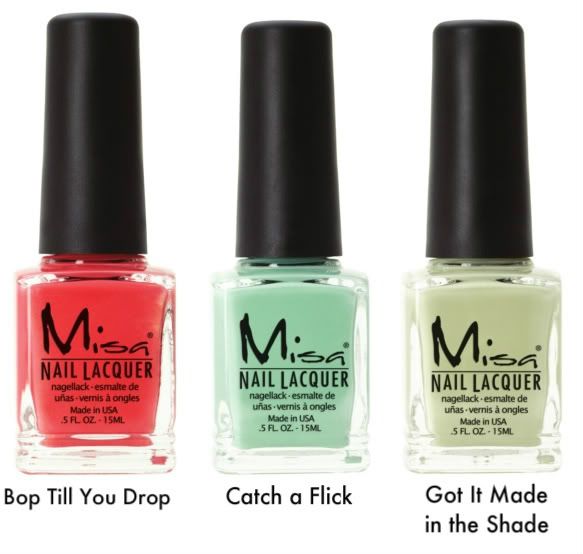 Nieuwsgierig? Binnenkort zal de Misa Hip to my Jive Collectie verkrijgbaar zijn bij Boozyshop.nl. Wij houden jullie op de hoogte! Ik vind de kleurvarianten eigenlijk allemaal wel erg mooi, het zal jullie dan ook niet verbazen dat ik niet kan wachten om ze te bewonderen!